I recently took a Luxury Residential Group client to Stephanie's on Newbury for lunch.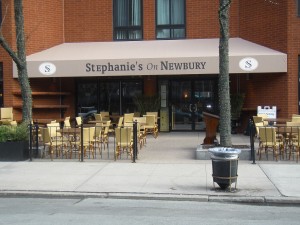 If you know anything about this place and their amazing adaptations on comfort foods, you should go, and go now! Stephanie's on Newbury serves familiar dishes, but executed in ways that are innovative, generous (they are known for large portions)and, above all, delicious. I have always found this to be a terrific place to go with out-of-town guests or for an afternoon of people watching with friends from their expansive street-side patio. Stephanie's is located on Newbury Street in the heart of Boston's historic Back Bay.
We were seated immediately on the patio overlooking Newbury Street. The atmosphere was relaxed, the waitresses were friendly and the food (especially the salads) were outstanding. For an appetizer, we shared their very well known ahi tuna tartare, essentially cucumber-wrapped chopped sashimi tuna, with plenty of spice. This amazing combination was topped with crispy wonton strips and peanuts. It tasted as great as it sounds! Then I had their seasonal lobster salad roll, that had a great balance of mayo, lemon and maybe a zing of mustard. To my liking, it was served on a toasted roll. For lobster roll fans, this could be the very best around! My Client had the classic chunky chicken salad that had some toasted almonds and capers which really were a nice touch. The homemade irish soda bread was just perfect with the chicken salad. No complaints there either! Their salads are really very special.
Most everyone will enjoy sitting on the patio on a sunny day because it is such a terrific location and the scenery is ever-changing. I wholeheartedly recommend Stephanie's On Newbury, and definitely suggest getting a table outside on a nice day and enjoying one of Boston's great meals with some good company. It lays claim to creating "sophisticated comfort food" so come hungry and prepare to be satisfied! They deliver.
Stephanie's is located in Boston's Back Bay at 190 Newbury Street on the corner of Exeter and Newbury.
Tags: back bay