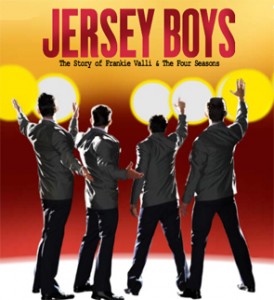 You might be asking yourself, what does The Broadway hit, Jersey Boys have to do with midtown luxury Real Estate in Boston, MA? You might also be asking yourself, why am I, Joshua Golden, Partner at Luxury Residential Group writing about it on this blog for real estate?  I will get back to that in a second but I wanted to tell our readers that I had the opportunity to see the show this evening at the Shubert Theater on Tremont St.  It was absolutely fantastic! I highly recommend that everyone, regardless of age, take the opportunity to see it before it leaves Boston on September 26th, 2009. Did I mention it was AMAZING?
Now, why am I sharing this with you? Well, this evening, after a long day at the office, I decided that I would take a shot and see if there were any single seats left for tonight's show.  I had nothing else to do and have been dying to see the Broadway sensation since it opened up in New York City a couple of years ago. The theater was on my walk home, I live in The Ritz Carlton on Boston Common and my office is at 355 Boylston St., so why not give it a shot? It just so happened that there was a single seat left, in a fantastic location, just 13 rows from the stage. Without hesitation I bought the ticket.  While waiting for the show to begin I realized how lucky and fortunate I was to be living in the Theater District/Midtown area of Boston, MA, so close to the theater community.
Midtown/Theater District  is where the Theater Community, entertainement  and Boston Luxury Real Estate come together.  Luxury Condo Buildings like  The Ritz Carlton, One Charles, W Boston, Heritage, Le Jardin, Four Seasons, Grandview, Parkside, and Tremont On The Common, are all located in the Midtown/Theater District of Boston.  If you are thinking about a move into the city, or just a pied-a-terre because you are tired of the long commute, you really should consider this central location. It  offers its residents and their guests easy access to public transportation, lovely parks, delicious restaurants, beautiful theaters(Shubert, Wang, and The Opera House) and pleasant walks to everything the city of Boston, MA has to offer.