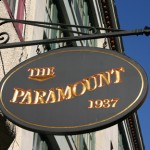 The Paramont Bistro, a fixture on Charles Street in Beacon Hill since 1937 is well known for its comfort breakfast menu. Surrounded by history, charm, gas lit tree lined streets and some of the most expensive real estate in Boston is this inconspicuous, absolutely delicious bistro.  What many people d0 not know is that they serve dinner.
Last night, while enjoying a nice stroll through the Hill, a few of us had the pleasure to dine at The Paramount for what was perhaps one of the most enjoyable meals we have ever had in Boston.  I had the Teriyaki Grilled Chicken with Lo Mein noodles and stir friend vegetables. WOW!!!  My friend had the sweet Chicken Marsala with creamy, garlic potato's and buttery green beans.  My other friend had the very generous sized, extremely tasty, baked chicken.  To top it off, we shared perhaps one, if not the most delicious, most decadent desserts we had ever tasted, the warm, caramel topped, ice cream on the side, banana bread pudding.  We were tempted to order the chocolate cake or caramel cookie dough milk shake but held off.
The staff was friendly and professional, the price was reasonable, the atmosphere was laid back and the food ranks up there with the top eateries in Boston. This should be a must try when visiting or living in Boston. In all honesty, it does not get too much better than The Paramount Bistro for dinner, if you like casual, affordable, top notch dining.  We will indeed visit many more times in the very near future and highly recommend it.
The Paramount, is located at 44 charles street  |  Beacon Hill  |  Boston  617-720-1152. For more information, or to preview their menu, please visit their website, www.paramountboston.com